CANT STRIP & TAPERED EDGE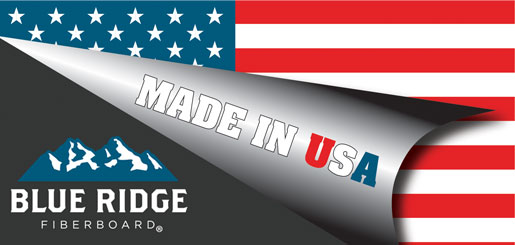 DESCRIPTION
CANT STRIP and TAPERED EDGE are a widely accepted, high quality low slope roofing products. Each is durable, lightweight, and environmentally friendly. These components are factory fabricated from BLUE RIDGE FIBERBOARD's STRUCTODEK insulation board. The CANT STRIPs are cut at angles that provide a true 45-degree angle between horizontal and vertical surfaces. The TAPERED EDGE is cut on angles that slope from zero on one edge to ½" to 2″ thickness on the opposite edge.
USES
Both the CANT STRIP and the TAPERED EDGE o er excellent transition and sloping properties which are compatible with most conventional roof systems. (see membrane manufacturer for approval)
CANT STRIPS provide a smooth transition from horizontal to vertical surfaces.
TAPERED EDGE strips are designed for a smooth transition from lower to higher elevations. The taper is manufactured to enhance roof drainage and reduce ponding water wherever there is a change in elevations. Easily fabricated for installation around roof edges, drains or in locations where a slope to 0″ is required.
FEATURES/BENEFITS
More durable than perlite
High R-value
Dimensionally stable
Environmentally friendly, 100% recyclable wood fiber
May contribute to LEED credits
Cuts with a knife; lightweight; contractor preferred
MEASUREMENTS
CANT STRIP

TAPERED EDGE STRIP

SPECIFICATIONS
Conforms to ASTM C 208, Type II – Roof insulation board
TECHNICAL DATA

APPLICATION
CANT STRIP … Install for a sloping transition of horizontal to vertical surfaces.
TAPERED EDGE … Elevate and slope roof for positive drainage. TAPERED EDGE can be installed on wood, metal, or concrete decks. TAPERED EDGE improves roof drainage, eliminating ponding water, and can be used on both new and re-roof projects.
LEED INFORMATION
May help contribute to:
MR Credit: Recycled Content MR Credit: Regional Materials
MR Credit: Rapidly Renewable Materials
IEQ Credit: Low-Emitting Materials – Composite Wood and Agrifiber Products
Documentation:

SDS Sheet

Data Sheet
---
2021-03